Are you ready to share your amazing documents with the world?
Here are your options:
Creating a link
Using secret links is a great way to share your documents quickly as anyone can view your content from a browser.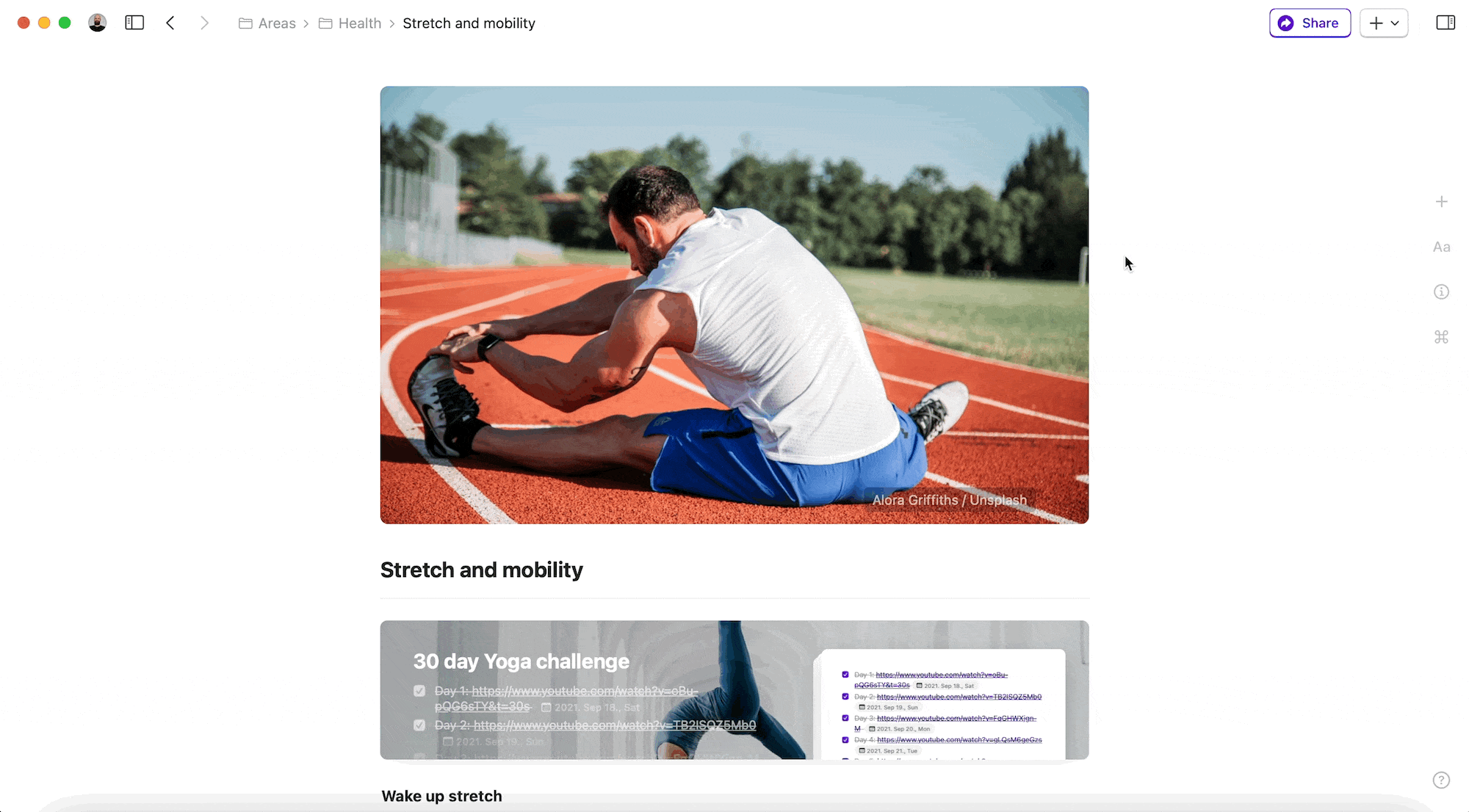 To generate a secret link
1. Click Share
2. Generate a link by clicking on the Create button
3. Copy the link
4. Share the link with anyone
Make sure to check all the options for your link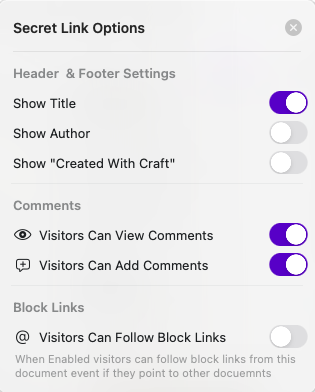 Comments
When you would like to receive comments on your page, enable the Visitors Can Add Comments option. All the comments will be visible in your original Craft document and in the shared browser link.
Once you collected all the needed comments, you can either show or hide the comments from the public by with the Visitors Can View Comments setting.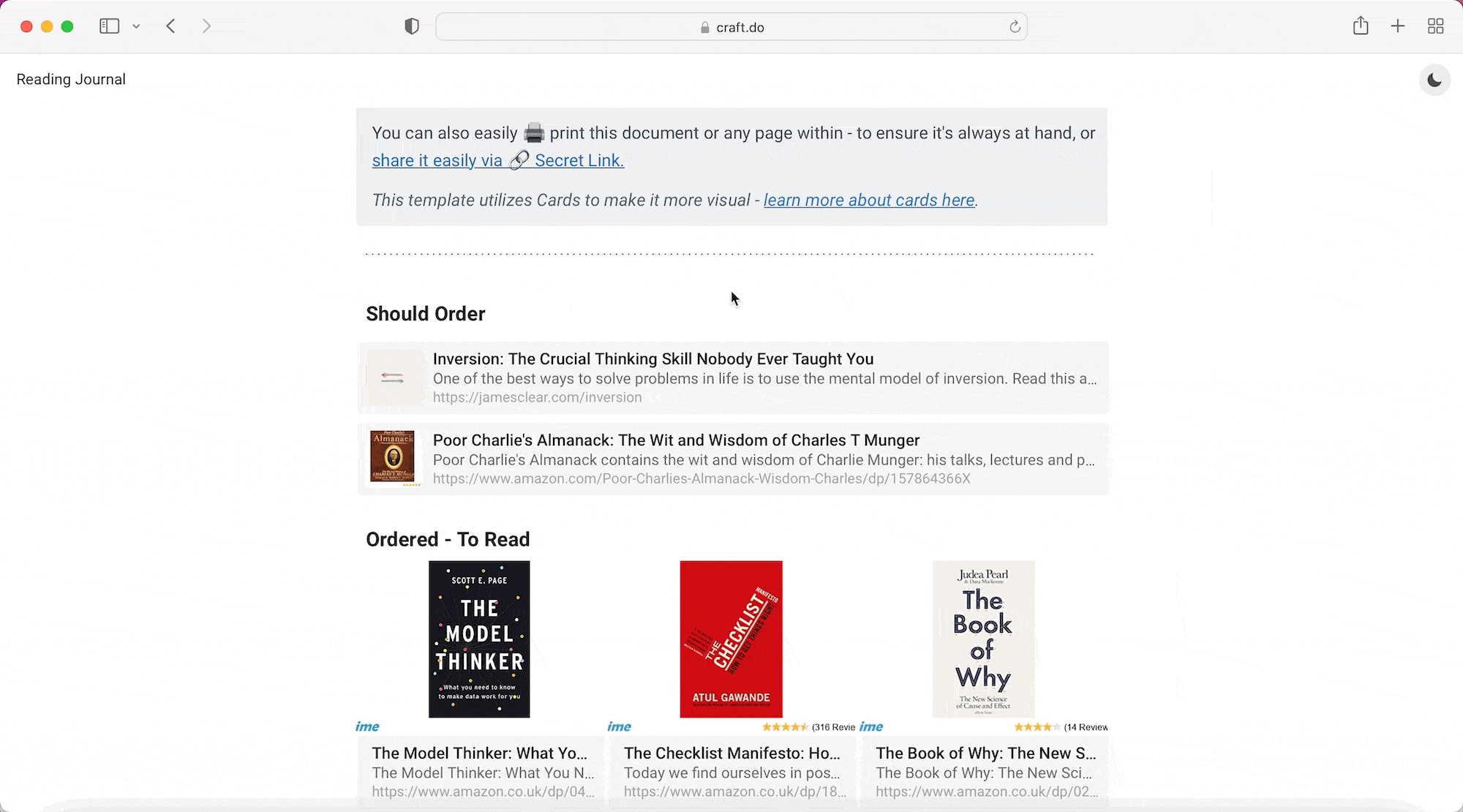 Block Links
If your document contains links to other notes, subpages, or blocks, you might want to enable this feature so that your audience can view the relevant content to the shared document.
Shared Content folder
You can view all your shared pages under the Shared Content folder located in the navigation bar. From this view you can
Copy

Link

Access the relevant

Link Settings

Remove

the Secret Link
Notifications
At this time you won't get notified of a new comment, but this is something we are planning to address in the near future.
Note
Craft Secret Link pages won't get indexed and won't show up in search results of search engines

If you move a document from one space to another, the link will change

The Links To This Page section won't be visible under the referenced pages.
Tip: If you feel the need for sharing an entire folder, consider restructuring your content into a single document with the help of pages and subpages
Deeplinks
Deeplinks create a URL that can directly link to a document, page, or even the selected block inside the Craft app itself - clicking on them from anywhere on your system should open the Craft app to that point.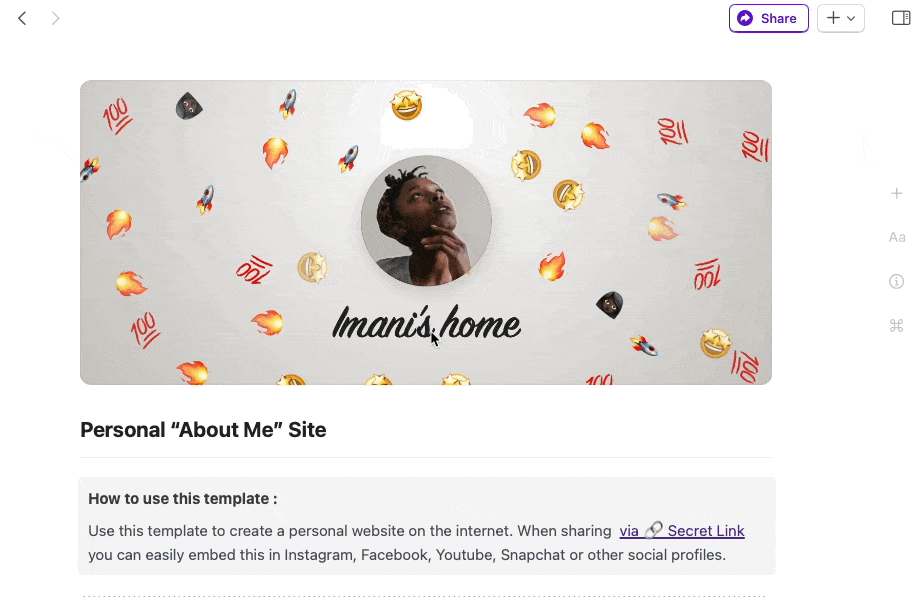 To copy the deeplink
1. Go to Share
2. Select Copy deeplink
Tip: you can create hyperlinks for documents that are located in different spaces.
Export As
Currently available export formats:
PDF

MS Word

Markdown

Email

Print

Image

TextBundle
Send to Apps
Once you installed any of the applications listed here, the export option will be activated:
Ulysses

Bear

Day One

NotePlan

Drafts

Things

OmniFocus

iA Writer

DevonThink
Share as QR Code
Speaking of Secret Links, why don't you learn more about QR codes in an original Craft document?